March 8, 2010
I took the trip from Madrid to Seville just on a whim. It's Spain after all, I should go somewhere. While in Rome I found that I could make valuable trips to important sites just by taking a fast train for the day. This is why I took a day trip to Barcelona and now to Seville. I had no idea such a massive cathedral existed here in southern Spain. I've seen such things in other parts of Europe, but I did not expect it here. This is all my ignorance. A major problem I have, I can get myself to Europe, but I cannot do the research needed to know what I should see while I am here. To take a trip of this kind takes much more planning than I can give to it. For this reason I just wander around cities and towns and trying to find interesting sites. I know I miss majors things because of this. I actually missed the Uffizi Gallery the first time I went to Florence! This Cathedral of Seville is one such accidental find. I had no idea it was here, so it was a wonderful find. It is nice to see something old here in Spain. (It's actually not that old as far as cathedrals go. It was started in 1401 and finished in 1507.) Madrid does not have a lot of old buildings.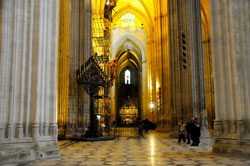 The Cathedral of Seville is a Gothic cathedral built over the remains of a mosque. Evidence of the mosque, pieces of its foundation, can be seen in one of the cathedral's courtyards. As far as I can tell there is no Islamic influence in the cathedral itself. This is a highly embellished cathedral and I am told (I took the audio tour.) that it is the third largest in the world, even larger than Hagia Sophia in Turkey. The inside seems complicated and undefined in terms of its spatial relationships. I expected to find something like I've seen in the Notre Dame or Chartres cathedrals. An entrance way opening to a large main altar with a large seating area in the middle, but saw none of that. It is therefore hard to understand how the cathedral "works" as a place of worship. It seems too divided up. There is no central space. In fact, I did not perceive the
building as living place of worship, although I know it is a functioning church. This is totally subjective, but always try to "feel" whether a building is still alive. This one does not. It feels more like a tourist site and a museum than a church. I felt no devotion here. Regardless, the ambience is breathtaking as you first step inside the cathedral. The high gothic vaults are powerful. I have never seen so many sub altars in a cathedral. They are lined up one after another almost 360° around the perimeter, this saint, that saint, this saint, that saint, and so on. Christopher Columbus's body is held in one of the side areas of the cathedral. The Spanish take a lot of pride in Christopher Columbus is discovery of America. You see his statue in public squares all over Spain. And why not? He is a national hero. I spent over three hours in this cathedral and without a doubt this is one of the best cathedrals I have
seen. Coming to a place like this is an awe inspiring experience. I feel that I have come to a place truly profound and my world has been permanently expanded as a result. The Cathedral of Seville is a must see.