February 5, 1987 Navadvip train station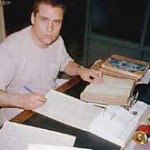 Well here we are again leaving this time for Shantiniketan. We will try to meet a few people there and then leave for Calcutta. I will be so glad to get out of Calcutta. The place is so crowded. Everywhere you go people. I'm wondering how you will fare in India. It's an incredible place. Frankly, I wish I was going home now. I'm reaching my saturation point. Life at the speed of Gaura Keshava is overwhelming. We have packed more things into last three weeks than you can imagine.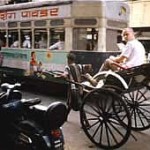 I am wondering whether or not I should travel into the South for a couple of weeks. More or less I am finished my work in India. As far as the Thesis is concerned, we did London, Delhi, Vrindavan, Calcutta, Midnapore, Birnagar and Shantiniketan. We've been out of USA about 3 weeks now. It seems foolish to return so soon. To come all this way and not see the South when it costs so little would be crazy. I could go back to Vrindavan and stay there for a week or back to Mayapura and rest there. I'm not sure what to do. I can't bear the thought of returning to NV to face winter and the chaotic situation with Kirtananda. After the 10th of Feb. Shri Vatsa Goswami will be in Vrindavan. I should interview him and Vishvambar so how do I fit that in? Go south and return to Vrindavan before leaving India or go back to Vrindavan after Bengal without going south?