Wednesday, November 30, 2005 11:02:03 PM
Dear Naty,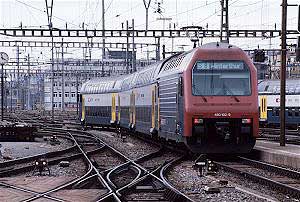 Arriving in France was a completely different experience than arriving in Italy. I came to France by jet; I came to Italy by rail. One is immediate and the other is leisurely. I prefer to travel by rail. Rail travel is slow and gradual. Some of my greatest memories of India are from my rail travels. I especially like sleeping on a train. The motion and sound puts me to sleep. It is like being rocked in a cradle. Rail travel allows me to psychologically adjust between where I am coming from and where I am going to. So I arrived in Rome by 10 AM after an all night ride from Paris that took me through Switzerland. Ah Italy is the land of the best coffee. I picked up the habit of morning cappuccino on the train to Rome. I will never forget that single morning coffee.
When I first arrived on the streets of Paris after an all night flight from Los Angeles I was totally disoriented. It was 5 PM and dusk was setting in. I stood on the street in front of the Bastille Metro station for a full ten minutes trying to get my bearings. Where was I? I had never seen a traffic circle in years and it took me for ever just to see where the street signs were located. In Rome the minute I stepped out of the train station I knew exactly where I was going. I had time to prepare on the train. By Rome I had worked out all the routines of how to move luggage and how to use a street map. I was a seasoned traveler. In Paris I was lost; in Rome I knew exactly where I was. I immediately found my hotel, checked in, found out how to say excuse me and thank you in Italian, and headed for lunch and a tour of the city. What a difference between arriving in Paris and Rome!
In France I began every new conversation with, "Je suis un Americain, mais je ne veux pas parler anglais. Parlez-s'il vous plait seulement le francais avec moi. I am an American, but I do not want to speak English. Please, only speak to me in French. In Italy I never got beyond "grazie," thank you, which meant that all of my interactions in Italy were in broken English. This affected the nature my whole experience of Italy. In Italy I was a outsider; in France I was a sympathizer. In France I was there to to participate in French culture; in Italy I could only observe Italian culture. I was not prepared for Italy. In some ways I should not have gone to Italy, on the other hand, I went to Italy to gain basic European travel experience such as traveling by rail and surviving in a culture were I knew virtually nothing. In this regard it was a successful trip.
I learned that the French take themselves very seriously. They are nationalistic and proud of how well their society works. (I am sure the recent riots throughout the country took them down a notch or two.) Italians, on the other hand, take themselves in a light hearted way. Nothing in Italy seems to work that well and the Italians even joke about it. During the five days I was there the subway in Rome was closed for two days and a general strike for the whole country was planned for the day after I left. The French are frilly and high strung. The Italians are easy going and basic. The diet of France is cuisine, the diet of Italy is food. I was prepared for France I was ill prepared for Italy. Previously I wrote that would not return to Italy. On reflection however, I will definitely return to Italy, but only after proper preparation.
The next time I go to Europe I will only go to one region and not stay more than a week. I think a series of single region short trips is not a bad way to go. Pick a place, study and prepare for it, and then go and do it. I would like to return to Paris just to "do" the Louvre. I would like to return to Italy just to cover a few cities in the north and then on another trip to cover a few cities in the south. I was amazed that I could get on a plane at noon in Italy and be home in Los Angeles the same day by 9 PM. Indeed, the world is not really that big.