Saturday, December 23, 2006 1:05:05 AM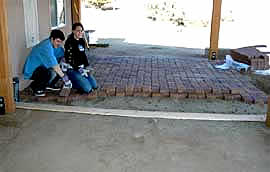 This Friday was an important day for me. It was the day of completion of my long three year plan of construction to move my family from Riverside in the city to Rim Rock in the desert. This plan began with the total reconstruction of my "shack" building in Riverside and the building of the kitchen/shower/toilet building as part of the Shack complex. Then along with this there has been the design and construction of our desert home. Today we officially completed that by putting down of 2600 square feet of interlocking pavers underneath the patios and around the perimeter of the house.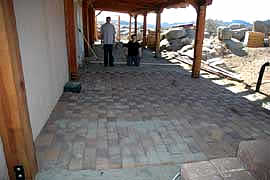 Actually this desert project started in 1999 when I purchased the land and put the first road into the property. Since then, each year, I have been slowly upgrading this land by adding electricity, a well, a well shed, telephone, satellite internet and television, a building pad and finally the house itself which arrived in 2005. At various times I have celebrated the completion of different phases of the project, the arrival of the house, building patios, the roofs and now finally laying the patio pavers. Needless to say this has been a complicated, expensive, exhausting and most satisfying undertaking. At one point I even considered building the main part of the house itself instead of having it built for me. I am glad I never took on that project. At any rate, the work is now completed and I have survived. I am happy that I did it, but I would never undertake such a massive project again. My work is to write and not to build. I have paid my dues.