Friday, July 25, 2008
St Paul's Cathedral in London is a masterpiece of religious architecture that rivals anything in Paris or Rome. The street outside is congested, loud and touristy, but once inside all that fades away and you are immediately transported into another realm. There is an excellent self-walking tour that I recommend, but after that, put the audio away and go through again and "feel" this sacred place. The Cathedral has been recently cleaned so you get a good sense of what it must have felt like when it was first built. There is no doubt, St. Paul's is a living building. It is also a national church, something that I never realized even though I grew up in the Church of England. It is the state church of England and I am sure was the state church for the empire in its day. I was deeply moved to see a book containing the names of all US soldiers killed during WW II (48,000 I am told) right at the main altar. The British are indeed grateful to America for what was done during the second world war.
I was also touched by the paintings by a modern Russian artist, Sergei Chepik, that hang on the wall in the main hall. Chepik depicts a different type of Christ, not the one sitting as a child sitting in the lap of his mother, but one who is a prisoner in a Soviet Gulag during Stalin's reign of terror. Knowing a little of Russian history now, Chepik's interpretation of Christ is powerful and touches me. I am also impressed by the church authorities for placing such an interpretation in their main hall. There is, no doubt, a political statement behind this and I agree with it.
Deep within the bowels of the church there is an interesting tour that contains a lot of state history. Don't miss that part. It is not same as the pantheon of dead popes that you find in the Vatican, but it is worth seeing. St Paul's, being a state church, is more secularized then the Roman Churches.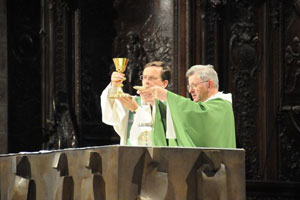 As I always in such places I stayed for communion. I now clearly understand why I left the Anglican fold years ago. In spite of the grander of this wonderful building and even the worship of the people, the service was dry and tasteless for me. I could not feel the devotion that I felt at Notre Dame or Chartres. As I began to read the Nicene Creed, which I used to recite as a youth, I realized that I cannot in any honest way recite it now. I left the service without taking communion. I admit that at Notre Dame in Paris I did take the sacrament and it had meaning for me, but here I could not. Perhaps in Paris the difference was because the service was in French and Latin and I could not properly understand the words, but at least the 'taste' was there at Notre Dame. St. Paul's had no such taste of bhakti for me. I remain hopelessly touched by Mother.
I can find no photos of the inside of St. Pauls. Did they not allow photography?