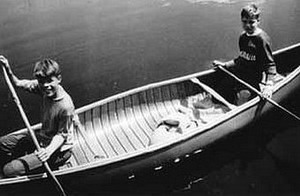 As you recall I spent the summer of 1969 as a forest worker in the Northern Ontario bush at Sultan. In those days I was inexperienced in life, and that summer spent away from home was good for me. It was a time to hardened up and develop my independence. This independence was tested in a battle of wills with my father. I recall that I came up with a scheme to take my summer's paycheck, travel to Winnipeg, a thousand miles west of Sultan, buy an English touring bike and ride it home to Toronto. That meant riding a bike 2600 kms along the trans-canadian highway. This was not an easy or safe endevor. When my father got wind of this scheme he threatened to have the police pull me off the highway. I remember him yelling at me on the phone. In the end I backed down, but I did buy the touring bike with my summer's earning when I returned to Toronto. I rode that bike for many years thereafter.
Previous to that I used to spend my summers at my grandfather's cottage in Eastern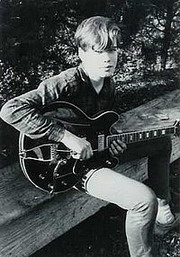 Ontario. This was a beautiful place along the banks of the Trent River. In fact I spent most of my childhood days at this cottage. My parents loved the rural life and so I received a healthy dose of rural life as I grew up. My father was an outdoors-man and today my great love for the wilderness comes directly from him. My parents had their home in Toronto. This was where I went to school and where my father worked, but virtually every weekend and every summer was spent at the cottage. In this way I grew up as a country boy.
During the summers I would work on the farms: bringing in hay, stooking oats and wheat, and milking cows. It was a wonderful life. In the winters we played hockey on the river and snowshoed in the hills. In those days the winters were much colder than they are today and there was much more snow. January and February saw temperatures below minus 40 degrees Celsius. It was so cold that if you urinated the urine would freeze by the time it hit the ground. My cousin, Kenny and I used to have fun demonstrating this fact! I have even seen pigeons freeze up in mid flight and drop to the ground.
My greatest friend growing up was Kenny. We spent a lot of time together at the cottage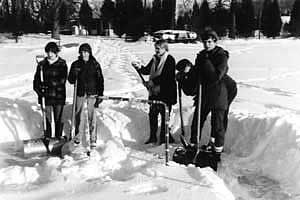 during the summers. We would work and play together on the farms. Most of the time during the summer we would stay with my maternal grand-parents. My parents would drop us off at the cottage and then return to the city to work. I would only see my parents on the weekends.
Alone, Kenny and I had a good time. We spent a lot of time hunting with bow and arrow and fishing on the river from a canoe. I also remember catching mud turtles from a punt in the swamp that was nearby. One of the our greatest times was to regularly steal a little wine or liquor from my grandfather's alcohol cache until we had enough for a bash. We must have done this three or four times, but when we did it was a night to remember. I recall drinking this horrible brew of beer, wines, whiskey, vodka and God only knows what else. It took about a month to collect enough brew to get the job done. We would get drunk on those occasions. I can still see the two of us walking for miles along the dirt roads, ducking the headlights of cars as they came by. We never got caught, although I think my grandfather was made suspicious by his dwindling supply of liquors. But it was good time. We were good boys. We worked and played hard.
In fact, except for my one time Friday night drunk at Sultan this was the extent of my alcohol taking. My youth was tame compared to what the rest of the country was doing during the 1960s and 70s. It was sex drugs and rock and roll. I missed most of that.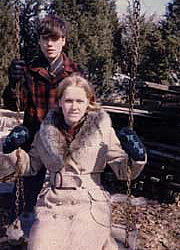 My early sexual experiences were even more limited. It is hard to believe in today's context, but I was a virgin until age 23 when I got married. All my friends were also virgins, well into their 20s. It was not that we did not think and talk about girls, but no one ever did anything. We would have secret crushes on girls, but no one had the guts to actually date a girl. In one of the photos you can see my girl friend, Karen. I spent two whole summers virtually alone with her at the cottage. We could have done anything together, but we did not. We just took walks, talked and swam together. But I have to admit that I was on a slow burn for both those summers. I think I kissed her once.
Mostly I was oblivious to the advances of girls. I remember that after I returned from my summer in Sultan, I learned that the mayor's daughter had a crush on me. I received passionate phone calls and perfumed letters from her, but to this day I do not know her name or even remember what she looked like. I was oblivious. There was much missed opportunity for love. I sometimes think that I should have enjoyed love at this youthful time, but my involvement in Krishna Consciousness prevented such earthly pleasures.