March 3, 2010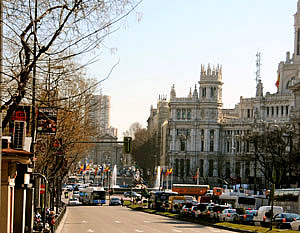 When I travel I think of myself as Le Flaneur, which translated is, "the stroller," or "the walker." The french poet and critic, Charles Baudelaire, first conceived of the flaneur as the gentleman city stroller who walks the streets of Paris with no particular purpose other than to observe and enjoy the life of the city. I like to move through the cities of the world with a similar frame of mind: to just observe the state of man and to appreciate life in all its forms. I never cease to be amazed how varied the human mind is, how it can create so many solutions to the same problem. I saw an ad in London's Heathrow airport which read: The more you look at the world, the more you recognize that people value the same things, but in different ways. How true this is! Heathrow is a truly amazing place. Nowhere can you find so many people from so many places all intermingling. There is no language that is not spoken there. I always enjoy moving through this transit point.
Today I had little time to "flaneur" my way through Heathrow. I had only an hour and a half to change terminals and pass through security one more time. As it turned out I caught my Madrid flight, but my bags did not. When I arrived in Madrid I discovered that my luggage was still in London, which meant I have no bed clothes or fresh clothes for following day. The hotel gave me a basic traveler's pack, tooth brush, comb, razor kit, and so on. I was happy.
Compared to LAX, Madrid's airport is a beautiful architectural monument. It has vaulting ceilings full of color. Surely an airport is the face of a country, so when I think of how ugly and decrepit the Los Angeles airport is, I am embarrassed. Why would a major city like Los Angeles not have something nicer to show the world? I could have taken the metro to my hotel in downtown Madrid, but it was already dark and I just did not feel like trying to negotiate the metro after such a long day of travel. I took a taxi to my hotel, 22 Euros. Cheap! Compared to the rest of Europe, Spain is a bargain.
My God, the streets of Madrid are wide! I generally find that unappealing, and yet I can see that they have planted endless numbers of trees along the boulevards. I am sure it is gorgeous in the spring, summer and fall, but at this time of the year it looks drab. That first evening I took a walk to get my bearings and I had a little meal and tried out an ATM. I always worry that I will not be able to access money when I come to a new country, but as it turns out two of my four credit cards worked so I had access to local cash. I am happy: I am here safely, I have a nice room and my health is good. Let the adventure begin. Le Flaneur will take to the streets of Madrid tomorrow.