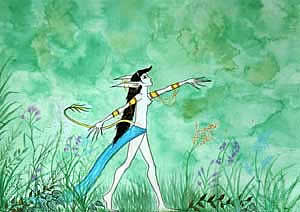 When I want to write something I sit down and try to think about what to write. At first the process is slow and hard and mechanical, but there comes a point when I enter into a state of heightened consciousness. This is were ideas begin to come to the surface. Things start to flow easily. This state of consciousness can even "thicken" into an intense state of meditation.
In this state ideas and energies bubble up from my unconsciousness. This state can last for days and even weeks on end, and even though I am walking, eating, and doing whatever I need to do, I am in this creative state of complete focus. This state is extremely enjoyable to me, and when I lose this state of consciousness, I become depressed and lost.
My greatest struggle in life is to balance my need to work, make money and live in the world with my need to go inward and find this creative state of mind. In some way if would be better had I never "tasted" the joy of this creative state, but because I know the joy of creativity I am driven to constantly seek it. Hence my struggle and frustration. As far a talent is concerned, I have very little talent to write, but what I do have is bull headed determination and the capacity for hard work. So this is my real talent.
**Illustration by Lalita © 2005