July 27, 2010 Toronto
Today my mood was less macabre and more upbeat. Yesterday was my first day back at my childhood home. It was the day of reconnecting with my past, and it was inevitable that I would have to face a time shock. Today, the job of getting on with life began.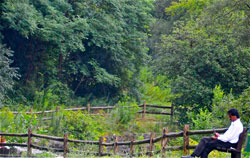 This morning I walked to the Warden subway, a metro station, where I used to go almost everyday during my teenage years to catch a train to the university. Not only is this a place where one can enter the underground world of Toronto's subway system, it is also where one can enter the hidden world of Toronto's ravine system. The City of Toronto is blessed with a large network of interconnected ravines which have been preserved as natural wildlife areas. These ravines are part of the Don River around which the city has been built and which has a large network of tributaries that fork out all over the city. One can walk the trails in these ravines for days and still not pass through the whole river system. In the mornings these ravines are a beehive of wildlife activity. The city is famous for a huge varieties birds, pheasants, raccoons, skunks, porcupine and even the occasional deer.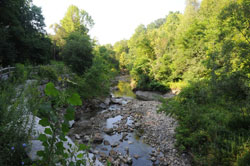 The world in these ravines is lush and green and totally divorced from the busy city above. As a child I loved to go to this place in the morning. It is amazing how much I miss the color green. I thought I had overcome my need for green, but as I walked this ravine today, I realized I had only suppressed my need for green. In fact I ache for green. My present world in the deserts of California is brown.
Little by little I am visiting the shrines of my youth. This is a pilgrimage into my past, but as I take this journey my heart again is filled with bitter sweet emotions. It has been 15 years since I have last seen my parents and almost 40 years since I have seen these ravines and the other places of my past. I have avoided this trip for years, not wanting to see or feel any of this, and now that it is happening my thoughts are predictably confused. Again I am confronting the macabre reality of time. In these ravines my friends and I would climb the bluffs, wade through the creeks, build forts, ride our bikes, and hike for hours. These places were our private world away from the watchful eye of our parents and the city above. On this morning I walked for an hour within this ravine. It was here, in this hidden world beneath the city streets of Toronto, that I spent much of my childhood. I even found the place where I had carved my initials almost forty years ago. Seeing these trees was like meeting old friends. How strange that my human friends are long gone, but these trees still stand to greet me after so many years. It was good to meet these silent old friends.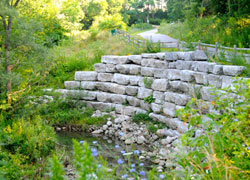 In the afternoon we drove to my brother's home a 100 kilometers north of Toronto. John is three years younger than I and he lives in a small town with his wife and his one remaining daughter who is still at home. He has three daughters. John is what I call the normal son, only for the fact that he did not join a religious cult and leave the country. My brother looks good! He started going bald years ago, but instead of looking old he has shaved his head and sports a pair of stylish glasses. He is fit and trim and well dressed. I give him credit for turning baldness into stylish. It is such a sight to see him standing beside my father, who looks like an old farmer in his suspenders, pocket protector and disheveled hat. Since his retirement why father has even adopted the farmer's "twang" that many rural people in this part of the country use. My father indeed has adopted the old farmer ways.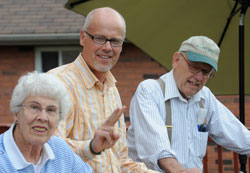 John's family was away at their cottage so I could not meet them. One thing that most impresses me about John and Janet, his wife, is a decade ago they adopted a child from an orphanage in China, instead of creating that extra child here. This was a supreme act of kindness and love that overwhelms me to this day. I simply do not have that kind of compassion for such an undertaking. I have never met Madison, their adopted daughter; she is almost ten now, and I had hoped to meet her on this trip, but that will have to wait until an other day. It was good to sit with my brother and my parents and be together once again. It was John who noted that it had been 40 years since we had done this together. Indeed it has been this long.